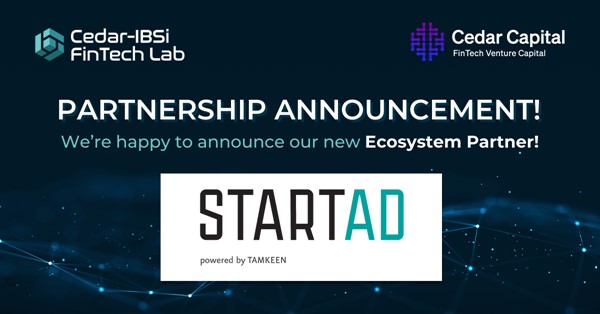 Abu Dhabi/Mumbai September 14, 2023 – Cedar-IBSi FinTech Lab and startAD, the global startup accelerator powered by Tamkeen and anchored at NYU Abu Dhabi, are delighted to announce the signing of a Memorandum of Understanding (MoU), solidifying their partnership to bolster the FinTech ecosystem in Abu Dhabi.
The collaboration aims to create an environment of mutual support, empowering FinTech startups and driving innovation within the industry. Under the agreement, Cedar-IBSi FinTech Lab will extend discounted access to its cutting-edge services and platforms to startAD members. Moreover, startAD companies will have the exclusive opportunity to pitch their ideas and solutions to Cedar Capital, an early-stage FinTech-focused venture capital fund that is part of the wider Cedar group.
Commenting on the partnership, Sahil Anand, Director of Cedar-IBSi FinTech Lab, said, "We are very excited to kick this off with startAD and the wider NYU Abu Dhabi community. Cedar-IBSi's research and consulting experience in the region, combined with startAD's commitment to Abu Dhabi, will boost the FinTech knowledge and investing landscape in the region. We envisage multiple new intellectual properties being brainstormed together in collaboration with startAD in the times to come."
In reciprocal support, startAD will introduce Cedar-IBSi FinTech Lab to promising companies and facilitate access to its infrastructure, allowing the Lab to establish a pop-up lab within startAD's innovative ecosystem.
"This partnership will unlock opportunities for high-potential FinTech startups from the GCC and India to scale globally.  Startups will be able to build smart strategies by running simulations, leveraging real market data and intelligence with access to Cedar -IBSi's global FinTech labs. Further, startups will benefit from customized market access programs, avenues for network building, mentoring, coaching, and funding opportunities. startAD is looking forward to working with Cedar-IBSi to nurture cutting-edge innovations advancing the global financial sector," said Ramesh Jagannathan, Managing Director of startAD.
Together, Cedar-IBSi FinTech Lab and startAD are poised to build a thriving FinTech ecosystem in Abu Dhabi, where startups can flourish, collaborate, and drive advancements in the financial technology landscape.
For more information about startAD and Cedar-IBSi FinTech Lab, please find their websites here & here respectively.
---
About Cedar-IBSi FinTech Lab
Founded in 2018, Cedar-IBSi's FinTech Lab has been home to global FinTechs who need a "soft-landing" opportunity in India and the MENA region. Our Lab platform is the brainchild of the group, consisting of Forbes-listed global management consulting firm, Cedar (www.cedar-consulting.com), and global FinTech market intelligence firm, IBS Intelligence (www.ibsintelligence.com).
---
About startAD
startAD is an Abu Dhabi-based accelerator, steering local and global startups to scale in the UAE and beyond. Powered by Tamkeen and anchored at NYU Abu Dhabi, startAD is a new model for innovation that creates customized and impact-driven programs in partnership with stakeholders including governments, corporations, investors, and innovation entities, furthering UAE's transition into a knowledge-based economy. startAD's unique sprint accelerator model enables corporations to further innovation by partnering with startups disrupting their core businesses, while equipping startups with the training and opportunity to pilot their solutions with industry leaders.
startAD offers unparalleled business advancement opportunities to local and global tech startups, SMEs, researchers, investors, and youth through an extensive range of programs, state-of-the-art facilities, and a strong global network. Driving innovation in construction, retail, finance, and other priority industries in the UAE, startAD alumni startups have raised USD 70 million in investment, generated USD 50 million in revenue, secured over 50 global pilot projects with corporations, and created over 270 jobs worldwide.