By Nitin Mathur, CEO & Founder of TAVAGA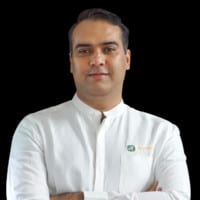 When the world's second-largest economy gets hit, the tremors are bound to be felt by both large economies such as the US and developing ones like our own.
The Coronavirus (COVID-19)epidemic, with its epicenter in Wuhan, the capital of the busy province of Hubei in China, has claimed more than 3,000 lives and infected over 90,000. It has spread to over 60 countries and sent shockwaves through financial markets. Beyond its pathological implications, lies its impact on the global economy.
The Indian angle
The trade between China and India is worth $87 billion, of which we import goods worth $70 billion from China. It includes everything from electric components and machines, medical instruments and pharma raw materials, vehicles and auto parts, iron and steel components to nuclear machinery.
While China takes 5.1 percent of our total exports, in the form of cotton, salt and organic chemicals, and mineral and metal ores among others, we get 13.7 percent of our total imports from China alone.
Needless to say then, when our second-largest trading partner hits the brakes on its factory output, companies in India break into a sweat.
We may have pushed for smartphone manufacturers to increase their domestic production, but they still depend on China for their components. Other electronic goods manufacturers would also be facing production issues.
A supply shortfall in consumer electrical and electronic goods in India (either due to coronavirus-led Chinese cuts or our economic slowdown) would also trouble online sales, as they form a sizable portion of e-commerce goods sales.
Pharma companies bring in key raw ingredients from China to make medicines. Automobile manufacturers, too, are heavily dependent on their components on their Chinese suppliers.
However, the Chinese New Year in January-February would have proved to be a greater boon than usual as companies would have stocked up by December last year, anticipating the Chinese holiday season.
Goods and services 
Goods and services across the world are suffering the aftermath of the quick spread of the Coronavirus (COVID-19). Global exports and imports and Chinese exports and imports are so intertwined that it is unavoidable.
The spillover of disruption has been the most acute in China's neighbors as seen in their monetary policy responses.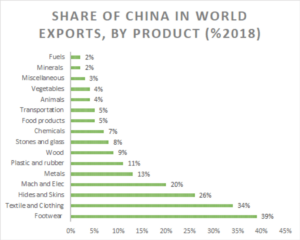 Goods movement
Shipping has been heavily affected with curbs on movement to stem the spread of the Covid-19 virus.
Shipping companies have cut back on their ships sailing from China to the rest of the world, carrying goods, to prevent the virus from advancing to other areas.
It has a direct bearing on the world's supply chain as 80 percent of global goods trade by volume is transported in ships and China itself houses seven of the world's 10 busiest container sea-ports, says the United Nations Conference on Trade and Development. The contagious coronavirus is a threat to business infrastructure in adjoining countries as well, as Singapore and South Korea, too, have busy ports and have seen the disease escalate.
Global GDP
The global GDP will be compromised due to the economic fallout of the coronavirus. China accounts for around 18 percent of the global GDP (2019) compared to 4 percent when the Sars epidemic had broken out in 2003. Chinese businesses are now more ingrained in global supply chains.
Sars had robbed China of 1 percent of its economic growth in the eight months it had lasted. The coronavirus is expected to shave off 1-2 percentage points off China's GDP growth in the first quarter of 2020.
Investor takeaway in times of epidemics
Contagious epidemics such as Coronavirus (COVID-19) bring uncertainty to the investing community worldwide, prompting them to move towards traditional assets such as golds and bonds that are perceived to be more stable, instead of the assets with systemic risk like equities.
That is where smart investment planning involving diversification and asset allocation comes in. It allows us to stay out of troubled waters and focus on our health, instead.
(Disclaimer: The views and opinions expressed in this article on Coronavirus are those of the author and do not necessarily reflect the views of  IBS Intelligence.)