FinTech insights and data portal
About
For over 30 years, IBS Intelligence has covered the global BankTech and FinTech landscape in-depth, providing actionable insights to global Financial Services, Technology, Consulting, and institutional investor groups.
IBSi's Galaxy portal is a self-service insights and intelligence portal, tracking and analyzing the global BankTech and FinTech landscape daily. The portal comprises data points in areas of vendor intelligence, bank system intelligence, market intelligence, use-case libraries, and other forms of proprietary data and thought-leadership.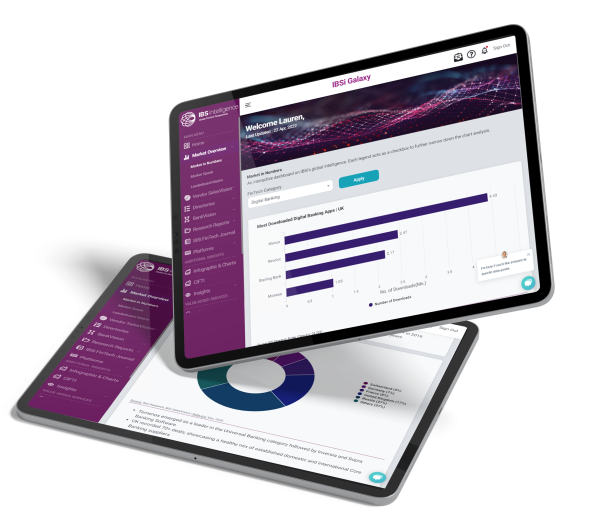 29,000+

system sales records. Growing everyday…

10,000+

global banks covered

3,000+

global FinTech and BankTech vendors profiled

190+

countries covered

100+

analysts updating GALAXY with fresh research
What subscribers say about us
TESTIMONIALS
"Sopra Banking Software is a subscriber of IBSI's proprietary platform – IBSi Galaxy that provides an insightful view of banking technology deals across geographies. This digital platform is unique to the financial technology space and provides valuable information to our market intelligence and competitive analysis."
"IBSi Galaxy provides a fairly comprehensive coverage on banking software contracts signed globally with third party service providers. The database is easy to navigate with multiple visualisations and dashboards"
"IBSi Galaxy is a resourceful portal, to strengthen our market and competitive intelligence. The data within helps in keeping our teams up to date. IBSi Galaxy has been helpful to our sales team for developing efficient sales tactics."
"Thought Machine has made key in-roads with banking clients around the world. IBS Intelligence's IBSi Galaxy has contributed to this growth by providing us with the information & data required to help us navigate into different territories with market & competitive intelligence."