by George Brostoff, CEO & Co-Founder, SensibleVision
The launch of the Samsung S20 phone (and the release of the new Apple phone that's expected to come out in the fall) have once again brought facial recognition back into the public eye.
It's one of those technologies that we all just take for granted, but how does it actually work not only for phones but for devices such as door locks, security cameras, or even automobiles? And are the common perceptions of facial recognition even accurate? Let's look at some of the myths and facts:
Myth #1: Facial recognition is racially biased.
Fact: There has been a lot of news coverage about how facial-recognition systems only work for people with lighter skin, and some have concluded the technology is racially biased. This is has been partially fostered by what turned out to be a controversial art project collaboration between a Microsoft researcher and an American artist.
Perceived issues with racial profiling and AI are often the result of the lack of diversity in the database that occurs when developers prioritize creating a large database over a more varied one. Lighting can also play a part, as evidenced by research of Joy Buolamani. The MIT Media Lab researcher found that some cameras had difficulty interpreting the composition of facial features on individuals with darker skin tones, leading to inconsistent results. However, there are currently facial recognition solutions available that provide consistent results, regardless of the subject's complexion, as developers learn how to work with a variety of faces and lighting conditions.
Myth #2: Facial recognition can be easily hacked.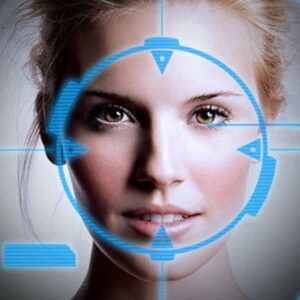 Fact: While many implementations have proven to be insecure and can easily be hacked by photos, masks, or videos, this is not inherent to face recognition as a concept, but to the vendor's technology and approach. Simply put, bad technology doesn't work very well, but good systems do.
Facial recognition technology is rapidly improving to the point that many systems can detect minor changes in appearance, such as glasses, facial hair, makeup, and even partial obstructions. Advances such as "active liveness detection," where a user executes an action such as squinting, blinking, or making a face, can render it far more difficult for hackers to spoof a facial recognition system; combined with "passive liveness detection," which employs internal algorithms to detect imposters, it's no easy feat for hackers to successfully bypass facial recognition systems.
In some instances, storing biometric information, such as face templates, locally and subsequently sharing that information only with authorized devices, may be more secure and less susceptible to hackers (albeit potentially less convenient) than storing that info centrally on the cloud. If vendors are cognizant of potential issues and implement preventative security measures accordingly, facial recognition technology is no easier to hack than other, comparable systems.
Myth #3: Facial recognition will always be a fringe technology because people are worried about their privacy.
Fact: While face recognition privacy is a hot topic in the news, hundreds of millions of people use it daily to access their phones and interact with other devices. Where transparency, speed and high security is desired, almost nothing can provide the same level of convenience and accuracy.
Facial recognition tech is already far more ubiquitous than one might think. While some jurisdictions, such as the city of San Francisco, have placed a ban on agencies such as law enforcement and transport authorities from employing facial recognition tech, it's exploding in industries and fields as diverse as retail, road safety, home security, and even agriculture, where farmers are using it to identify and track animals, help mitigate the spread of herd-killing diseases unintentionally transmitted by workers, and measure an animal's vital health information.
While the general public is often wary of the implementation of facial recognition tech by sectors such as law enforcement and the military, its unmatched expedience, precision, and practicality mean that people are increasingly open to incorporating such technology into their daily lives.
Myth #4: Facial recognition doesn't work well in low-light situations.
Fact: Ironically, Some facial recognition technologies actually work better with less light! This may sound counterintuitive, but with the right technologies the darkest night or even the brightest sunlight need not reduce the accuracy or performance.
Low light conditions shouldn't be a barrier to the functionality of 3D imaging. Problems with elements such as accuracy and depth manifest when infrared oversaturation occurs – such as when users whip out phones or other devices in full sun or near highly reflective surfaces. These options tend to test well in the lab, but not so well on the beach or next to plate glass windows. Fortunately, many developers have taken note of this and managed to work around the problem to ensure that the technology functions in a range of settings and locations – be they a cave at midnight or a desert at high noon.
Myth #5: Facial recognition is only for high-end devices.
Fact: Cameras are being included in most everyday devices. And the computing power to accurately process those images is already present.
This means facial recognition technology is only likely to increase in popularity – and decrease in cost. You'll find it embedded not just in law enforcement security tech but in products as common as door locks and restaurant payment systems, as well as in health care screening devices and programs and in retail stores. You may be surprised to learn that your phone, laptop, or tablet already feature facial recognition software, or the capacity to incorporate it. Essentially, if a device has a camera, it's probably capable of employing some kind of facial recognition technology – if it doesn't already.