While consumers' online activity had seen steady growth for years, Covid-19 turbocharged this. In retail, internet transactions as a percentage of total sales hit a high of 38% in January 2021, against 20% before the pandemic, according to the ONS. Even a year later, with all restrictions lifted, they remain at 27%.
by Clare Beardmore, Head of Broker and Propositions, & Jodie White, Head of Product and Transformation, Legal & General Mortgage Club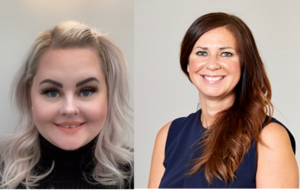 Meanwhile, online banking was already well developed prior to Covid-19. More than three-quarters of adults in Britain used internet banking in the opening months of 2020. Yet open banking services have also witnessed rapid and massive growth over the past two years. January 2020 saw the number of customers using open banking in the UK pass one million. Nine months later, that doubled. Today, there are five million users.
There's little doubt when it comes to the public's appetite for digitally-enabled services. Among brokers, however, it's been more mixed, and uptake varies widely.
But customer expectations are growing. Developments inside and outside the sector are leading to increased expectations for fast, smooth digital experiences. Customers increasingly demand solutions that will make their mortgage journey easier and quicker. And they want to be able to choose how to work with their broker.
Advisers that fail to offer a digital approach and communicate through online channels will only be restricting their ability to reach these customers. In this environment, the bar set by market leaders soon becomes the standard. Those who are yet to offer a range of digital communication channels risk hindering customer retention or may find themselves bogged down with administrative tasks, preventing them from doing what they do best: providing advice.
In short, a strong digital offering is becoming table stakes in the advice sector.
No need to reinvent the wheel
The good news, however, is that brokers don't have to do this by themselves, and they don't have to do everything. They're not technology businesses after all.
Instead, brokers should avoid the gimmicks and look for technology that adds value for themselves and their customers. In most cases, they are one and the same: Technology that reduces inefficiencies in the mortgage process and friction cuts brokers' costs, as well as the inconvenience and delay for clients.
Any serious adoption of technology must focus on the impact on the end customer. Consequently, a serious examination of existing technology cannot do better than begin with customer relationship management (CRM) systems.
Customer relationship management is critical to the client's journey. It plays a central role in capturing and managing borrower information and streamlining the loan process. Its importance has meant that a wide range of robust existing systems is currently available. There's no need to reinvent the wheel – nor even to invest; Legal and General's Mortgage Club, for instance, provides certain members with free licenses to the Smartr365 technology platform, which includes a comprehensive set of CRM tools.
By automating tasks, eliminating effort, and providing workflows to accelerate the mortgage process, CRM systems are critical to meeting modern customer expectations. However, they can't and don't aim to replace the broker.
The human touch
For advice, the human factor is still vital. That's reflected in the continued dominance of intermediaries in lending. Over seven in ten buyers used an adviser for their most recent purchase. With borrowers facing a sustained rise in interest rates for the first time in a decade, and finances squeezed by rising inflation and a cost of living crisis, that's not going to change.
CRM technology, however, can boost efficiency and free time for brokers to spend working with clients to find the best solutions. It also promotes continued engagement to enhance retention.
Rather than replacing the broker's expertise, the technology enhances advice by enabling advisers to apply their knowledge more effectively. To give one example, intuitive checks built into an affordability calculator share a far more complete picture by revealing why certain inbound leads might be failing. That allows intermediaries to offer better-tailored advice to customers.
Crucially, the technology must serve the advice journey, not determine it. The way to avoid that is to integrate digital capabilities in a wider transformation journey focused on using the tools available to meet customer needs and support advice. To do so, brokers must embrace technology, as their customers already have done.
Those that don't could be bringing the next crisis on themselves.