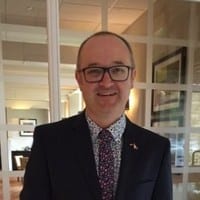 By Garreth Dorree, Head Of Operations, Paysafe Group
As the battle to contain the global outbreak of COVID-19 continues, millions of people around the world stay at home to assist society's effort to 'flatten the curve'. One consequence of this is that consumers are increasingly choosing to shop online.
But even in times of global crisis, cybercriminals are on the lookout for ways to exploit unsuspecting targets. In fact, Action Fraud reported a 400% increase in COVID-19 related fraud in the UK between 1 February 2020 and 18 March 2020.
Most of these incidents include online shopping scams where people order protective masks, hand sanitizers, and other products that never arrive. However, scammers are increasingly preying on people's fear and anxiety; the past few months have also seen an increase in phishing attacks, fake websites, and incidents of shipping fraud.
It's too soon to tell how the pandemic will impact the world of business payment operations, but experts agree that the threat of increased fraudulent activity to businesses is likely to increase also.
 An ounce of prevention is worth a pound of cure
 Small businesses have already been severely impacted by COVID-19, so the effect of further damage such as fraudsters making payments using stolen or fake credit cards is even more catastrophic. For those that are able to offer online shopping services, it's never been more important to secure your checkout and protect your business and your customers from falling victim to cybercrime and online fraudsters.
Sticking to the healthcare theme, it's clear that prevention is better than cure when it comes to cybersecurity. However, 70% of online small-to-medium-sized businesses currently struggle to find a balance between improving security measures and their other primary objective at the checkout; making the online customer journey as quick and easy as possible.
This is according to recent research by Paysafe. The research also found that security is the top priority when selecting a payment service provider. 81% of online merchants believe that it's the responsibility of their payment service provider to protect them from fraud, and a further 59% cited security as a critical factor to consider when deciding which service providers to partner with, ahead of reliability (49%) and cost (47%).
Fraud also remains a serious issue for all businesses. Over a third (36%) saw credit cards as the most vulnerable method of payment.
 The benefits of migrating to 3DS2
One of the best ways to keep your business and customers safe is to migrate to 3DS2 immediately. 3DS2 is the long-awaited upgrade of 3D Secure Authentication, the EMV verification protocol for processing card payments online securely. The new and improved 3DS2 builds on this and now enables mobile support and biometric validation. Most importantly it streamlines and secures the checkout experience for the customer, resulting in less cart abandonment, a better conversion rate, and much more robust security for e-commerce businesses.
Avoiding a dramatic increase in card declines is a key reason for merchants to integrate a 3DS2 solution into their checkouts, but there are also additional benefits to merchants and consumers that should persuade businesses to implement 3DS2 as soon as possible.
For example, unlike the current 3DS authentication, 3DS2 is optimized across all eCommerce devices including mobile. This is critical as, according to our research, more Millennials (79%) and Gen Z (72%) consumers shop regularly via their smartphone than any other device including a laptop or desktop computer.
3DS2 also improves customer experience by giving consumers more choice over how they authenticate payments. In addition, passive sharing of more than 100 data points (10x the current volume) for each transaction enables issuers to perform a better risk analysis, which results in significant improvements in fraud prevention without compromising a consumer's checkout experience.
In this time of crisis, two of the greatest hurdles to overcome for eCommerce businesses are satisfying consumer demand for greater flexibility in the way they pay, and offering a slicker, more seamless checkout experience while giving the customer peace of mind that the payment is secure.
As a result, merchants need a payment service provider that can be adaptable and mindful of the bigger picture of solutions as the market evolves. While the pandemic will pass, it offers lessons for dealing with other global events in the future. Now is the time to take steps to safeguard your business against fraud and future proof your checkout in order to remain competitive with industry leaders and retail giants. Integrating PSD2 into your checkout as soon as possible means your business and your customers have the best chance of being protected from being a victim of fraud during these uncertain times.
(Disclaimer: The views and opinion presented in this article is that of the authors and not necessarily expresses the views of IBS Intelligence)