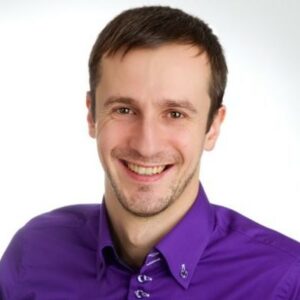 As nations worldwide continue to sanction Russia in condemnation of their invasion of Ukraine, companies have now joined the movement to exclude the Russian government – and sometimes Russians – from their list of clients. Some of these companies have decided to ban them following international sanction provisions from The Office of Foreign Assets Control (OFAC).
by Alex Malyshev, CEO, SDK.finance
Others have taken this decision as a show of solidarity with the Ukrainian people. However, not all FinTech companies are placing blanket boycotts on Russian citizens. The most notable holdouts are Binance and Kraken, citing the argument that banning "innocent Russians" goes against the philosophy behind cryptocurrencies.
So, let's go through the reactions of fintech companies to the Russian invasion and explore how they affect the socio-economic climate in Russia and the rest of the world.
SWIFT
As pressure mounted on SWIFT to respond to the Russian invasion, the payment network obliged by suspending 7 major Russian banks from performing transactions indefinitely. The ban stops these Russian banks from accessing their global economic resources, but the country has outlined measures to combat the hard-hitting impacts of the SWIFT suspension. In anticipation of incoming economic sanctions, the Russian government developed SPFS (System for Transfer of Financial Messages) — a SWIFT equivalent that works only in Russia and some banks in Switzerland, Kazakhstan, Azerbaijan, Cuba, and Belarus.
Russia now has to rely on China's more formidable Cross-border Interbank Payment System (CIPS) for international transactions.
VISA
According to Statista, VISA owns 12% of all credit payment cards in the world (335 million credit cards), accounting for about 50% of the overall market shares. The company reacted to the Russian invasion by halting all its operations within Russia and banning Russian VISA cardholders from processing transactions.
According to VISA's official statement, the company is 'taking prompt action to ensure compliance with applicable sanctions, and is prepared to comply with additional sanctions that may be implemented'. The VISA Foundation has also donated a $2 million grant to the US Fund for UNICEF to provide the Ukrainian people with humanitarian aid.
Mastercard
Mastercard has maintained the same ironclad stance as VISA on the Russian invasion. The credit card company has reportedly forfeited about 4% of potential revenue by excluding Russians from its services.
Mastercard CEO Michael Miebach released a statement saying that the company has ceased operations in Russia, as well as banned certain Russian banks from the payment network. Miebach also affirms that the company has sent a $2 million humanitarian fund to the Red Cross, Save the Children, and employee assistance.
Amex
American Express has also joined the ranks of Visa and Mastercard in suspending all operations in Russia and Belarus. According to a memo from American Express CEO Stephen J. Squeri, the cards issued in Russian territory will no longer work in Russia or outside the country. As part of Amex's "Do What is Right" code, the company has pledged $1 million to humanitarian organizations to provide relief to people in Ukraine affected by the war.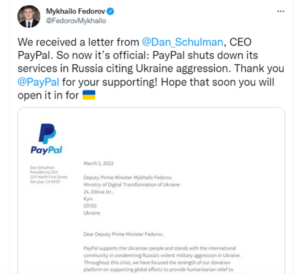 PayPal
PayPal has also halted all operations in Russia until further notice. Dan Schulman, PayPal CEO, released a statement saying: "PayPal supports the Ukrainian people and stands with the international community in condemning Russia's violent military aggression in Ukraine. The tragedy taking place in Ukraine is devastating for all of us, wherever we are in the world." He goes on to add that despite banning Russians from using PayPal's services, the company will still provide support for Russian citizens within its workforce.
Payoneer
Payoneer's reaction was to stop all issuance of cards to customers with postal or residential addresses within the Russian Federation. According to the company's updated FAQs, Russian citizens with Payoneer cards issued outside Russia can still conduct transactions without restrictions.
Upwork
In an open letter to freelancers, Upwork CEO Hayden Brown reiterated the company's mission to help improve people's lives. As a result, with over 4% of registered freelancers from Russia and Belarus, Upwork has suspended operations and has shut down support for new business generation in both countries. To this end, the changes will take full effect on 1 May 2022, leaving freelancers and clients in Russia and Belarus unable to create new accounts, initiate new contracts, and appear in searches. The platform also donated $1 million to Direct Relief International to support Ukrainian citizens caught up in the war.
Revolut
As a company with a Ukrainian co-founder Vlad Yatsenko, Revolut has provided unwavering support for Ukrainians suffering from the war. The current CEO Nikolay Storonsky, born in Russia to a Ukrainian father, released an open letter, categorically condemning the war, saying that 'this war is wrong and totally abhorrent' and that '…not one more person should die in this needless conflict'.
In a statement titled The War on Ukraine: Our Response, Revolut has affirmed its dedication to uphold and impose sanctions placed on Russia. As part of its support to Ukraine, Revolut has removed transfer fees for every transaction going into the country. The company has also pledged to match every donation made to the Red Cross Ukraine appeal.
Stripe
Although Stripe does not work in Ukraine, Russia, or Belarus, the financial services and SaaS company has pledged to impose sanctions on the Russian government and its citizens. The extent of this ban will cover transactions using the Mir payment system, as well as services linked directly or indirectly with the Crimea and the separatist Luhansk and Donetsk regions.
Paysera
Paysera has released a comprehensive list of financial restrictions on Russia and its allies involved in the Ukrainian invasion:
Russian citizens will no longer be able to use Paysera (this restriction does not apply to Russian citizens with residency or work permits in other supported countries).
All current accounts belonging to Russians will be closed.
Russian and Belarusian companies are banned from using their Paysera accounts.
All current business accounts belonging to Russian and Belarusian entities will be closed.
Transactions to Russian and Belarusian banks between private individuals will continue but must go through rigorous verification procedures.
Paysera will roll back all money transfers from Russian and Belarusian banks received on Monday (23 February and later).
Paysera users can no longer exchange to Russian Roubles (RUB).
This list is only one part of the extensive regulation changes for Russian citizens and banks. For more information, read the entire press release.
Apple (Apple Pay) and Google (Google Pay)
Apple and Google set rivalries aside to impose a collective ban on the Russian government and its citizens for their actions in Ukraine. According to NPR, Apple will stop shipping products to Russia with immediate effect. This announcement sent shockwaves around the tech world because of the company's global influence.
In the same vein, Google has also removed media platforms RT and Sputnik from its services, banning their content within EU countries.
But that's not even half of it. Apple has furthered its crackdown on Russia by deactivating its payment service Apple Pay in the region – 29% of Russians rely on Apple Pay for contactless payments. Similar to Apple, Google Pay (used by 20% of Russians) has also ceased all digital payments by Russian citizens within occupied territories.
Money transfer services
According to Statista, the value of cross-border money transfers made by Russians in 2020 were worth over $40 billion, which is by almost $8 billion less than in 2018. In 2022, however, this sum is likely to be much lower taken the situation with the money transfer services that are leaving the Russian market.
Western Union
On 10 March 2022, Western Union issued a press release announcing that all the company's operations in Russia and Belarus will be suspended with immediate effect. For the people of Ukraine, Western Union has created a donation portal to address the humanitarian and refugee crisis, according to Elizabeth Executive Director of the Western Union Foundation.
The money transfer company has pledged $500 000 to provide humanitarian aid to the Ukrainian people. To donate to the Western Union Foundation, visit its official website.
Wise
Before the 2022 Russian-Ukrainian war, Wise (formerly TransferWise) had already placed a $200 limit for Russian account owners. With the current swathe of sanctions, the remittance and payments company has doubled down on its restriction for individuals and businesses within the Russian Federation and its (illegally) occupied territories.
Find a detailed breakdown of the restrictions according to the company's Help Centre below:
You can only send RUB to private bank accounts or cards in Russia.
You cannot send RUB to government agencies in Russia.
You cannot send RUB to Crimea or Sevastopol.
You cannot send USD or EUR to accounts in Russia.
MoneyGram
According to Quartz, MoneyGram still works both in Ukraine and Russia since the sanctioned banks — Sberbank (Russian) and VTB — are not involved in the transactions directly. This same report also shows that, on the first day of the invasion, US-based remittances to Ukraine spiked 120%, while the number rose to 50% in Russia. Nevertheless, MoneyGram has removed all fees on transfers going to Ukraine from the US, Canada, and EU.
Remitly
Remitly is a P2P service that allows immigrants to send money across borders. Since the company's core demographics (immigrants) are closely aligned to the plight of Ukrainian refugees, it is no surprise that tit has also banned Russia. Remitly, through a spokesperson, has communicated its dedication to upholding this ban according to the EU and US sanctions.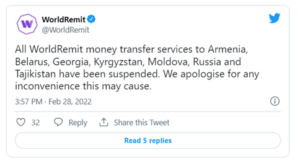 Zepz (WorldRemit)
Zepz, formerly WorldRemit, has released a list of countries on its banned list, including Russia and Belarus. The company also released an updated list of transaction conditions, showing that Russia is on the blocklist until further notice.
"The Big Four"
Members of the Big Four — Deloitte, Ernst & Young, KPMG, and PwC — have also enforced the sanctions imposed on Russia by the US and EU nations. At the time of compiling this report, the aforementioned companies are not in a hurry to impose blanket sanctions on all Russian citizens since a combined 1.1% (around 13000 people) of their global workforce is in Russia.
Deloitte's Global CEO Punit Renjen said: "Last week, Deloitte announced it was reviewing its business in Russia. We will separate our practice in Russia and Belarus from the global network of member firms. Deloitte will no longer operate in Russia and Belarus."
Mark Walters, KPMG's Global Head of Communications, said: "KPMG has over 4,500 people in Russia and Belarus, and ending our working relationship with them, many of whom have been a part of KPMG for many decades, is incredibly difficult."
Mike Davies, PwC's Director of Global Corporate Affairs and Communications, PwC UK, said: "As a result of the Russian government's invasion of Ukraine, we have decided that, under the circumstances, PwC should not have a member firm in Russia and consequently PwC Russia will leave the network."
EY released a statement that said: "Today, EY global organisation decided that the Russian practice will continue working with clients as an independent group of audit and consulting companies that are not part of the EY global network. The changes will take effect after the required transition period."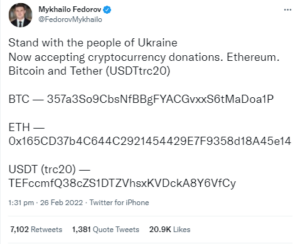 The crypto world
Although the major players in FinTech are equivocal in their condemnation and boycott (full or partial) of Russia, the crypto community maintains partial neutrality. The overarching sentiment within the world of crypto is that private citizens should not suffer due to the actions of their governments. After all, some of these individuals might be using cryptocurrencies to oppose tyrannical regimes.
Notwithstanding, the Russian Central Bank has proposed a ban on mining and trading cryptocurrencies. With Russia occupying third place among Bitcoin mining regions globally, the impacts on the value and volatility of the crypto market might be extensive.
On its part, Ukraine has also used crypto assets to fund its defence against Russian aggression. Ukraine's Deputy Prime Minister Mykhailo Fedorov has also posted wallet addresses for the Ukrainian Army and Civil Defense support.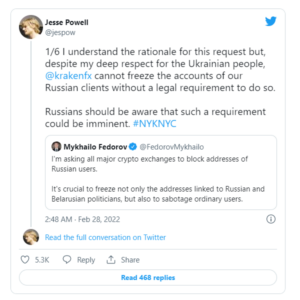 Kraken
CEO of Kraken, Jesse Powell released a Twitter thread in response to the Ukrainian Prime Minister's call on crypto exchanges to block addresses of all Russian users. In the thread, he expresses regret for the appalling conditions Ukraine finds itself in at the hands of its aggressive neighbours. However, he insists that the company cannot blanket-ban citizens 'without a legal requirement' to do so.
Binance
Binance CEO, Changpeng Zhao, released a detailed statement refuting claims that 'Binance doesn't apply sanctions'. He expressed that Russian individuals banned by US and EU sanction regulations are not allowed to trade on Binance.
KuCoin
KuCoin CEO Johnny Lyu also refuses to freeze the accounts of Russian users, unless there is a legal precedent to do so on a case-by-case basis.In a statement to CNBC, the CEO expressed KuCoin's stance on the issue: "As a neutral platform, we will not freeze the accounts of any users from any country without a legal requirement. And at this difficult time, actions that increase the tension to impact the rights of innocent people should not be encouraged."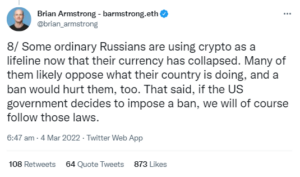 Coinbase
According to Coinbase's Chief Legal Officer Paul Grewal, the company has blocked over 25000 accounts linked with "illicit activity" with the Russian government and its allies. While the crypto exchange is dedicated to helping the Ukrainians, they refused to freeze the assets of 'ordinary Russians'.
Nevertheless, Coinbase has implemented measures to monitor attempts by sanctioned individuals to evade the restrictions. The crypto exchange will also follow recommendations that align with government recommendations, provided they don't interfere with individual rights.
Adyen
Although the Ayden network does not work in either Russia or Ukraine, the company has decided to offer humanitarian help to the victims of the ongoing invasion. Adyen's policy decisions include:
Blocking sanctioned banks and private entities
Suspending US and EU processing services in Russia, Crimea, and the separatist regions in Donetsk and Luhansk.
Suspending transaction processing in Russian rubles (RUB) regardless of issuing country.
To the Ukrainian people, Adyen has pledged humanitarian support through Adyen Giving and other charities like the UNCHR Disaster Relief Fund, Giro 555, and the Red Cross.
Mintos
The loan management platform Mintos has removed loans from Russian and Ukrainian lending platforms as a 'cautionary measure' to protect lenders from the unprecedented repercussions of the invasion. As part of the Mintos Conservative Strategy, the company will uphold these restrictions until the conflict stabilises – or ends.
eToro
When eToro announced that it would be force-liquidating Magnit PJSC stocks (and other related Russian stocks), they probably didn't expect such a massive amount of pushback from users who had equities in these companies. As a result of the criticism and public outcry, the company refunded all affected parties, except for leverage stakes. Despite the earlier wave of backlash, eToro is still considering what to do with nine other stocks from the country, including Sberbank of Russia, Rosneft  (RNFTF), Gazprom, and Lukoil.
Conclusion
The Russo-Ukrainian war has plunged the entire financial sector into a new reality, which follows post-pandemic inflation. We are now witnessing an unprecedented situation – financial institutions and FinTech companies are reacting in real-time to impose sanctions and boycotts on Russia and its citizens. Numerous companies that aren't obliged by law or sanctions have taken the initiative to leave the Russian market. These decisions cost each of them a significant part of revenue, yet they demonstrate the willingness to pay this price in order to help stop the war.