Mohit Joshi, President, Infosys, in conversation with Siew Choo Soh, Managing Director, Group Head of Consumer Banking and Big Data/AI Technology, DBS
DBS is a leading financial services group in Asia with a presence in 18 markets. Headquartered and listed in Singapore, DBS is in the three key Asian axes of growth: Greater China, Southeast Asia and South Asia. The bank's "AA-" and "Aa1" credit ratings are among the highest in the world.
Recognised for its global leadership, DBS has been named "World's Best Bank" by Euromoney, "Global Bank of the Year" by The Banker and "Best Bank in the World" by Global Finance. The bank is at the forefront of leveraging digital technology to shape the future of banking, having been named "World's Best Digital Bank" by Euromoney. In addition, DBS has been accorded the "Safest Bank in Asia" award by Global Finance for 11 consecutive years from 2009 to 2019.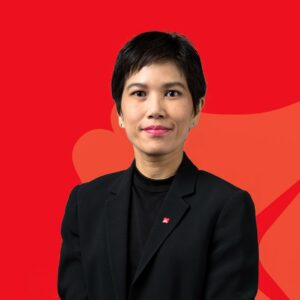 In her conversation with Mohit Joshi from Infosys, Siew Choo Soh from DBS talks about how the bank has achieved a feat unmatched by other banks globally, to become the first bank to concurrently hold three global best bank awards. Siew Choo Soh is the Managing Director, Group Head of Consumer Banking and Big Data/AI Technology at DBS. In her role, she drives digital transformation leveraging Agile, Cloud Computing, Big Data, AI, Machine Learning and is also increasing the representation of Women in Tech. Mohit Joshi is a President of Infosys. He is Head of Banking, Financial Services & Insurance ( BFSI), Healthcare and Life Sciences at Infosys and is also responsible for firm-wide sales operations and reporting processes, including large deal pursuits and top account growth.
Mohit Joshi: You have had a very interesting, fascinating and a well-documented career. Could you just give us a sense of your journey and the key lessons through-out your years in technology at DBS?
Siew Choo: It was a point in my career when I was ready to move towards new challenges and that was when DBS came calling. They asked me to look at a transformation they were about to start and pick up an opportunity there. When I first started in DBS, I was working on all the back-end technology, core banking is one of them from Finacle. As well as all the supporting units for the business such as legal, compliance, finance and so on. Those were the areas that I had never done in my entire career, I deliberately asked to be assigned to such a kind of technology to make sure I can get a 360-degree view of technology in a bank. I did that for about 2 years and after that I was given another new opportunity to head the consumer bank technology and the big data platform for the bank. That is what I am currently doing and still in the journey to further transform these 2 areas in the bank.
I was very fortunate to work with companies that truly supported mobility of people. We actually select people for roles and not because you have done it before but because of your calibre and as well as your passion to make an impact.
Mohit Joshi: You are also one of the few female leaders in technology across the world. For us at Infosys, 40% of our employees are women. What advice would you have for them as they move up in their career and take senior positions.
Siew Choo: Wow, 40% is a great achievement. Well done. I would say that women are typically the shy lot and we always have very high standards. To me, I think every woman should be bold and be fearless. One of my favorite icon is the fearless girl that has been moved in front of the New York Stock Exchange. I think that should be the model for every single girl. Be fearless and go after your dreams and do what you are passionate about.
Mohit Joshi: Now, moving to DBS. DBS has been a remarkable bank for many decades, but specially over the past 10 years. In 2019, the bank won every single 'Best Bank in the World' award, every single magazine and every single survey. What would you say is the vision of DBS, what is DBS truly looking to accomplish?
Siew Choo: In the last 10 years, we have been guided by our current CEO, Piyush Gupta. He has a very clear vision about where the bank should be, how we the bank should add value and how we should be transforming ourselves. I think the key part of it actually that we want to make sure that we are truly customer obsessed. We are striving every single day to make our customer experience seamless and we are always pioneering new areas to exceed the expectation of the customer. We have been doing this for many years and we continue to think of new ways to exceed the expectations of the customer, to make banking seamless and invisible to them. That has been the key part of our agenda.
Mohit Joshi: DBS is in a unique position where people contrast DBS with a Netflix or an Amazon just because your technology DNA is so strong. How do technology and business co-exist and succeed at DBS?
Siew Choo: We have a new saying at DBS that 'business is tech and tech is business'. We are using technology as an enabler for business. Quite a few business models came about because of technology. That's how we see technology as a revenue contributor rather than a support unit. That is a big contrast to many years ago to where we are now. In this whole agenda, we are quite relentless in pursuing cloud native, in making sure that our people are working in a truly agile manner as well as in the leverage of data and AI. We want to make sure that we do each of this in the true and correct way. There is a lot of effort put into educating our people, giving opportunity to attend various conferences and to be trained by the experts in the industry to understand the true essence. This is so that when we are implementing all of this, the architecture pattern for example, we are doing it the right way that we are able to reap the true benefits from those implementations.
We also benchmark ourselves with the big tech firms. For example, in the last one-two years we are trying to create a new enterprise data platform – ADA, to drive our AI agenda. Before we started, we went to all the various companies, especially the tech companies to look at what they use, what are the tools that they use and what is their operating model and so on. We created our platform based on those learnings.
Mohit Joshi: That's very inspiring. From a Finacle perspective, we have had a relationship with DBS for many years now and you personally have been a very strong sponsor but also a very constructive critic of everything that Finacle needs to do. What is your advice to us as we invest and grow our platform?
Siew Choo: DBS has been in partnership with Infosys and Finacle for more than ten years. Finacle is definitely a core part of our architecture. As the bank grows up to become more and more digital to tackle new business models, it is important for us that Finacle evolves at the same pace as well as in the same direction as where we are going. So, in a sense the architecture pattern, the product capabilities, the agility of the teams as well as the user friendliness of the UI, those are all key part of what Finacle does to DBS. It is in our interest that we kept the agenda and the priorities of the bank in sync with Finacle.
DBS was recognised as the winner of the Celent Model Bank award in 2018. To download a copy of the Case Study click here.