During the recent FinTech Happy Hour, hosted by Cedar-IBSi FinTech Lab and Cedar Capital, founders, investors, and CXO executives from FinTech, BankTech, and BFSI institutions, came together to exchange ideas, network, and collaborate on Everything FinTech!
One topic that echoed in the room was the importance of labs and incubators in India and the role they can play for FinTech companies.
In the rapidly changing FinTech landscape, the demand for guidance, mentorship, and strategic connections is essential. The Cedar-IBSi FinTech Lab is one such powerful catalyst driving these ideas towards unrivalled success since 2018 when it was set up in Dubai's Internet City. The Lab not only cultivates invaluable mentorship but also forges highly lucrative connections within the FinTech industry.
Talking about the potential of labs and incubators, Geeta Chauhan, Co-founder, and CEO, HiWi noted, "Incubation and lab programs are particularly useful for startups with no experience or who are starting from scratch. FinTech(s) can take advantage of mentorship programs, a set of contacts and funding that ensure they get the right foot in the door."
Here's how labs and incubators are revolutionizing FinTech in India.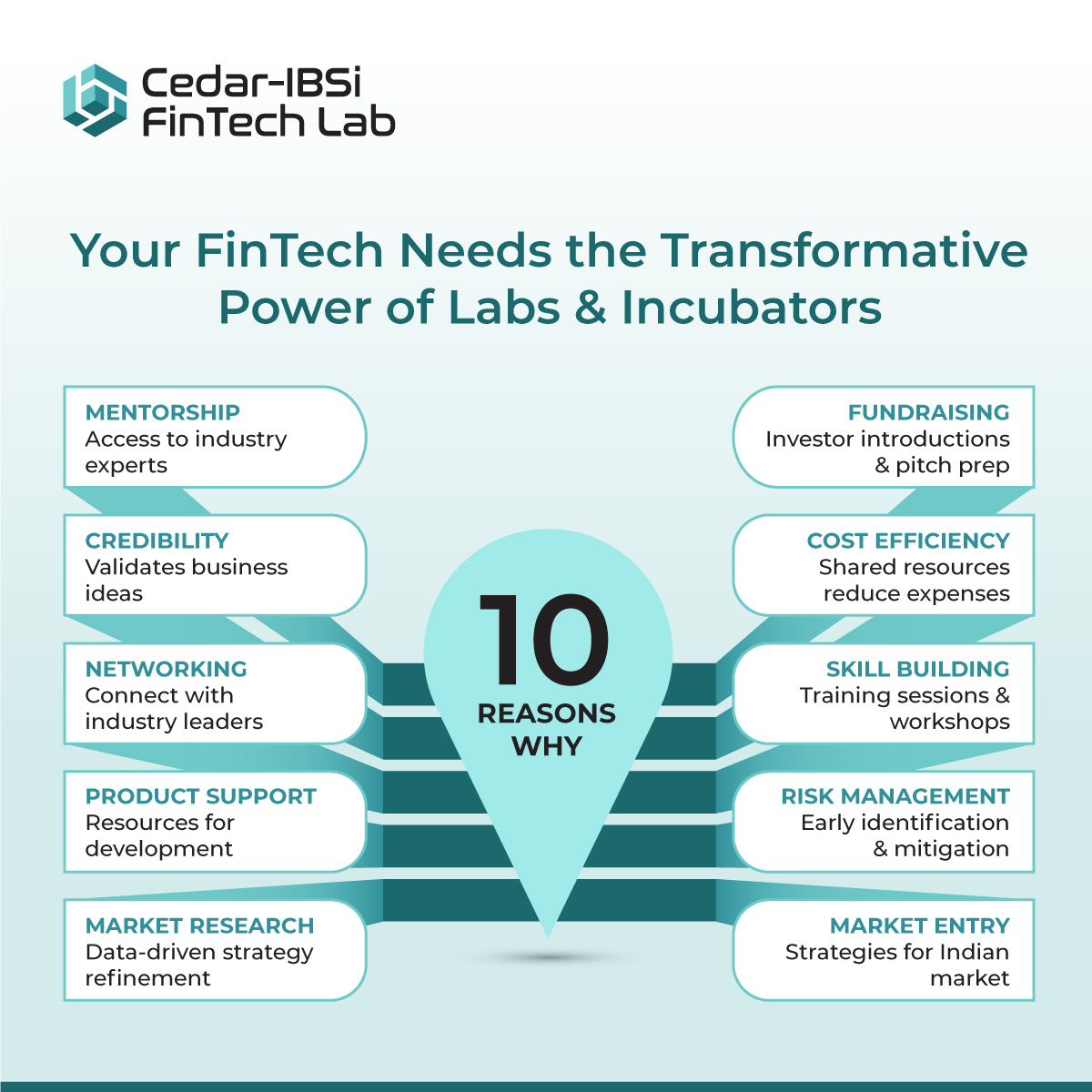 Mentorship and Guidance: Labs and incubators provide access to experienced mentors and industry experts who can offer valuable guidance and insights. This mentorship can help FinTech startups make informed decisions and navigate the complexities of the financial industry.
Validation and Credibility: Being a part of an established incubator or accelerator program can add credibility to a FinTech startup. It validates the business idea and can make it easier to gain trust from potential partners, customers, and investors.
Networking Opportunities: Accelerator programs like the Lab offer an extensive network of contacts in the FinTech and financial services sectors. Startups can connect with potential customers, partners, and investors, which is essential for growth and success in the FinTech industry.
Product Development Support: Many FinTech startups need technical assistance and support for product development. Incubators, such as the Cedar-IBSi FinTech Lab can offer access to development teams, resources, and infrastructure to help in building and refining products.
Market Research and Validation: Incubation programs often provide access to market research data and opportunities for market validation, enabling FinTech startups to fine-tune their offerings to meet customer needs.
Fundraising Opportunities: Incubators and accelerators can introduce FinTech startups to potential investors, refine their pitch and business model, making them more attractive to investors. Many incubators and accelerators provide direct funding to early-stage startups in the form of grants, equity investments, or loans.
Cost Savings: Shared office space, resources, and infrastructure can significantly reduce the operational costs for startups, allowing them to focus their financial resources on product development and growth.
Skill Enhancement: These programs often offer training sessions and workshops that help FinTech entrepreneurs, and their teams enhance their skills in various areas, including marketing, sales, and leadership.
Risk Mitigation: By providing a supportive ecosystem, labs and incubators can help FinTech startups identify and mitigate risks early in their development, improving their chances of long-term success.
Market Entry Assistance: For FinTech startups, entering the Indian market can be challenging due to the diverse customer base and regulatory environment. Incubators can provide market entry strategies and assistance.
The Cedar-IBSi FinTech Lab is a dynamic entity propelling FinTech companies towards their target market. It has a proven track record in assisting 35+ FinTechs since 2018, offering market access and collaboration; product and market intelligence via the Cedar-IBSi Platform; visibility via exclusive in-house, global events, leadership interviews, coverage via the IBSi Podcasts and in the IBSi FinTech Journal; Acceleration and access to interesting co-investment opportunities via Cedar Capital.
For FinTechs in the Middle East & India, the Cedar-IBSi FinTech Lab is not just a place for mentorship: it's a hub. A hub that fosters a culture of creativity, facilitating FinTech startups to think outside the box and develop groundbreaking solutions.
Labs & incubators are thus the perfect partners in your FinTech journey to realize the true power of transformation, innovation, growth, and limitless possibilities.